After hours of scouring the web and doing, what I call, "internet window shopping", I created a wishlist. Although, unless any of these items participate in a major sale, they will probably remain on my "wishlist" for a while. So let's go! ----->
From New Look for £22.99
Parsian Light Blue Lace Contrast Daisy Print Belted Dress

from New Look
Okay that was long. Anyway, lets get back on the racing track. I thought this was a really cute dress. The colour is so summery and not too " in your face". I especially love the lace peter pan collar. It just adds something special to the dress.
The belt which comes with it, is very useful since it helps hold the shape and stops it looking to square.
Some people may say it looks a bit crowded however I just think it looks summery and pretty. For £22.99 I guess it is okay however I don't always trust New Look with the quality. The material is mostly cotton with some polyester so, I can imagine it should be quite comfortable.
Blue Pocket Crop Boxy Shirt

From New Look
From New Look for £14.99
At the moment, I am really liking
cropped boxy shirts. When you think of shirts, you think of formalwear and, for me, school uniform however when paired with something like skinny jeans, it doesn't look too formal. Priced at £14.99, it is just a cute fashion essential. Plus, is it just me that really likes that bright blue?
Denim Short Dungarees
This one isn't from a specific website or brand but I have just really been craving a pair of these for summer. Especially since I'm planning to make some tumblr inspired tees to go with it. I found this outfit on tumblr and I just love it. That rainbow and daisy shirt though.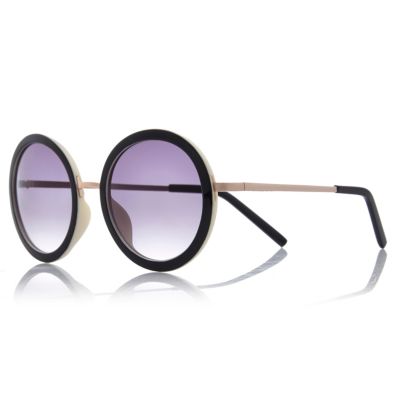 Round Sunglasses from River Island
Once, as a joke, I put on some round sunglasses in Urban Outfitters. That started a revolution in myself. I am now in love. I really like these ones from River Island, which were also in Niomi Smart's March Favourites,
however I think I may drift towards the cheaper option and just buy some from Primark for £3.
A Pastel Blazer
I have already talked about this one in this post so yeah I won't say anything really.
A Kimono
These are just so summery and amazing. They don't really keep you warm since the sleeves are generally not very long (although you can wrap yourself with it like a blanket!). My skin gets irritated by materials like Polyester, which is the material of most kimonos, so I want to make one. I was thinking black material but that will get too hot in summer, right? I found a cute kimono on Forever 21 however I live near no forever 21. #Forever21Alone . You see what I did there? Another cute kimono is this one from New Look but it is quite expensive at £19.99.
Oversized Knitted Cardigan
This kind of counteracts the kimono but for a while I have been wanting a warm knitted cardigan for the summer days which aren't so summery.
MOTO High Waisted Shorts
From Topshop
I have a serious lack of shorts. That is a serious bummer seeing as I l happen to love them so much. For me, Summer is the time of the year for cartwheels on the field. You can't do cartwheels wearing skirts without flashing your pants to everyone surrounding you.
Black Gladiator Buckle Sandals
From Shopwilddaisy
For Summer, I really need sandals. I absolutely adore these sandals from Shopwilddaisy at the moment. Unfortunately, it is an American Website and I really can't be arsed with shipping and delivery charges so I will probably end up getting some from another shop.
Phone Case
From Amazon for £2.10
Okay before you have a go at me for going off the topic of fashion, I just really wanted to put this on. It is a really pretty light pink and is very protective since it is TPU. That is basically a stronger, less flexible version of silicon. For summer, this case would be really nice since it is very bright and summery and doesn't slip out of my hand!
Okay so I kinda had a mix of specific and general items there (and an extra non-fashion item) but oh well. It still counts as a wishlist.
That is my wishlist which will remain a wishlist until I earn money.