Oh hi! I'm doing pretty good at this back to school thing aren't I aye? But I tend to find that my "amazing ideas" which I totally am up for last about a few days. Luckily for you guys, those few days give me enough time to write and schedule posts, posts and more posts. That is my theory anyway. Call me Einstein (or Darwin I don't know).
This post will hopefully be marginally longer than my most recent post. But we shall find out shan't we? Anyway get ready to be mind blown by these hacks I gathered from a mix of the Internet and my beloved brain. Let's go! --->
#1. READY MADE BREAKFAST
What's better than getting up and having your breakfast ready made, hassle free? hmm actually a lot of things but I was being persuasive. Anyway, when it comes to school, you should make your breakfast the night before. There are probably other things you can do but I like to make "overnight oats". Not only are these extremely healthy, but you can just take them out of the fridge and eat them. Yep. That is food for you. I haven't even told you how to do it. It's simple. You just get some oats, milk or yogurt and then any extra ingredients of your choice like raisins or fruit, pour them in a bowl, mix them together, cover it with some clingfilm and then pop it into the fridge. They even have recipes here!
#2. THOSE DREADED SCHOOL SHOES
Unfortunately for me and a lot of other people in the UK, we have to wear school uniform. Part of that school uniform is the shoes... the shoes which seem to leave your feet deformed with blisters, aches and just no. If they are to small, what you want to do is: put on some thick socks and put them on then get a hairdryer and just start hair dry your feet for around 2 minutes. When you take them off they should be a little looser.
#3. BRAINY FOODS
Some foods can make you smarter! Here is what they are:
Will you ever have to say this? No
Beetroot

Anchovies

Eggs

Berries

Hot Peppers

Brussels

Kale

Pumpkin Seeds

Apples

Dark Chocolate
Although these may not be the most pleasant of edibles, they will probably help with your school work!
#4. CONCENTRATE, CONCENTRATE
Studies have shown that chewing gum can improve concentration. Although this might not necessarily work, it's an excuse to the teacher I guess. Ha.
#5. STUDY LIKE A PRO
This is more of a little something to encourage your studying. Basically, all you do it get your text book and put sweets at the end of every paragraph. Once you've finished reading that paragraph, eat the sweet and enjoy it. If you want to push yourself, eat one at the end of every page or you can just set goals for anything. Once you've wrote a sentence, eat a sweet. Stuff like that you know. ENJOY YOUR SWEETS YOU LITTLE STUDYMEISTERS.
#6. WRITE IT DOWN
If you want to remember something, write it down. And No, typing on a laptop doesn't count. By simply putting in more effort (whilst exercising your hand), it can imprint what you are trying to remember in your brain unlike keyboards.
#6. STAY AWAKE
With my tips you won't be that person.
Although I've never actually properly fell asleep in class, I always feel slighly "dozy". A tip to help stay alert and awake is to rub your ear lobe (a pressure point). This sends blood to your ear and tricks your brain. SCIENCE LESSON WOOP. Also, if you put something cold on the insides of your wrist (metal table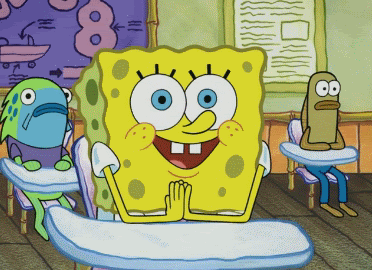 BUT THIS PERSON! YES SPONGEBOB

or waterbottle) then it should wake you up also (and cool you down!(Two in one yes!))
Now go my young disciple (you're probably older than me) and walk into school like Elsa. Sassy and free.
P.S I am in love with my banner. EMOJIS ARE QUEENS